New puppies are happier dogs if properly trained
I just got a new puppy, now what?
We offer Group Classes, Private Training, and Daily Training for puppies.
Dogs are learning every minute, either what we want them to learn or what makes sense to them based on trial and error. If they try peeing on the rug or eating from the trash, they learn that it's an ok thing to do. If we catch them and punish them the only thing they learn is not to get caught. In fact the wrong response on our part can make training much more difficult.
Click here to read Jonathan's article The Power of Positive Training and the Perils of Punishment.
We suggest that you start training and socializing immediately before the puppy ever has the chance to learn bad habits. That's why you can always start puppy training immediately; there is never a wait. In fact we offer a substantial discount to anyone beginning puppy training within the first week or two after they get their new puppy*.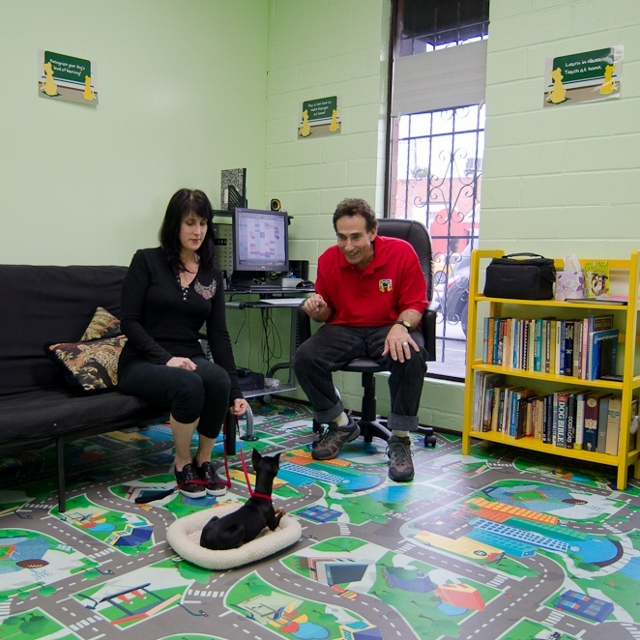 It is also vital that the dog be properly socialized, which must be done before the dog is three to four months old. If you have been told not to take your dog out until it has all its shots please click below to go to several articles written by veterinarians about the need for early socialization.
American Veterinary Society of Animal Behavior Position Statement on Puppy Socializing
Purdue University Veterinary School Letter on Puppy Classes and Vaccinations
In addition here is Jonathan's article about the pros and cons of early puppy socialization. Since this is a step that you cannot go back and fix later we strongly advise you to read this article now.
Word to the Wise: Socialize – What can happen if you do and what can happen if you don't!
If you want to start training but still are uncomfortable taking your dog out, our private, in-home puppy training has the advantage of being able to start right when you get your dog, even before the vet suggests it go out. We teach you and your puppy exactly how things should be arranged in the home so you start by never having accidents and unwanted destructive behavior. Once "I Said Sit!" has time to assess the needs of you and your dog, we can tailor a program and schedule to suit both of you.
I just got a new dog that's not a puppy, now what?
Your new dog will be adjusting to its new home for the first few weeks, and you don't know the dog you've got until after it has settled in. Very often its behavior and activity will be a little suppressed at first. As your dog adjusts, it is common that bad behavior begins to surface over the first few weeks.
We strongly encourage training before your dog has any chance to learn bad habits so we give a substantial discount to anyone that begins training in the first week or two after they get their new dog*.
"I Said Sit!" attracts clients from all over Los Angeles, including Santa Monica, Malibu, Pacific Palisades, Brentwood, Westwood, West Hollywood, Mar Vista, Marina Del Rey and Culver City. We are always worth the trip.
If you would like us to contact you to talk about your dog, please click here and we will call you right away.
New Dog & Puppy Training can include:
Housebreaking
Socializing
Dog Behavior Training
Manners Training
Separation Anxiety Avoidance
Leash Aggression
Basic Obedience Training
Biting, Barking, Jumping Pulling Solutions
*We offer a 10% discount if you begin training within two weeks of getting your new dog/puppy. Absolute proof of where and when you got your dog is required. This special offer must be mentioned when training arrangements are made and is not retroactive. Discounts may not be combined with any other offer or special and are based on the normal pricing for the training program chosen. Discounts are offered on programs and series but not on consults or individual lessons. We're sorry, but we regret that we cannot make this offer to dogs that are privately re-homed.