Daily Dog Training programs are our most popular training programs. Your dog gets training lessons five days a week and the family gets a private lesson each week so that the training transfers easily from our trainers to your family.
Since 2009 we have been continuously selected as the "Best Training in Los Angeles". We offer day care training that is better than "Boot Camp" or "Cage Free" kennels. Instead of kenneling your dog or letting him run crazy all day, our Structure and Reward Based programs offer the best of both. Your dog is not overstimulated by hours of cage free play, nor is your dog confined all day.
We treat each dog personally, giving it its own space with toys and bedding where it can rest between lessons and play time. There are three special play areas all with artificial turf for their potty needs. Your dog is never encouraged to learn to go potty on cement. We alternate rest time with mental and physical exercise including play and lessons. Our canine students get individual training and group exposure for socializing and distraction training.
Dog Day School is available as a Dog Day Care only program or as a Boarding Training Program. Each has different benefits depending on your particular needs and time availability. There are Day School options for both puppies and for older dogs. Pick up and delivery service is also available in our School Bus.
If you would like us to contact you to talk about your dog, please click here.
Puppy Day School
All of our puppy day care programs include weekly lessons with you and training every day for your dog. We begin with a lesson for you and your puppy so you can be sure to get started along the right path with good habits. Each series also includes socialization, name recognition and getting your puppy on a household routine for rest time to hold its bathroom and eliminate in the right place. We also cover feeding, care and basic commands.
Puppy Preschool is a 10 day program with three lessons for you and our goal is for you and your puppy to learn the fundamentals of sit, down, loose leash walking, and waiting at boundaries.
Puppy Kindergarten is a 15 day program with four lessons for you and includes everything from Preschool and also come and go to place.
Dog Day School Basic Training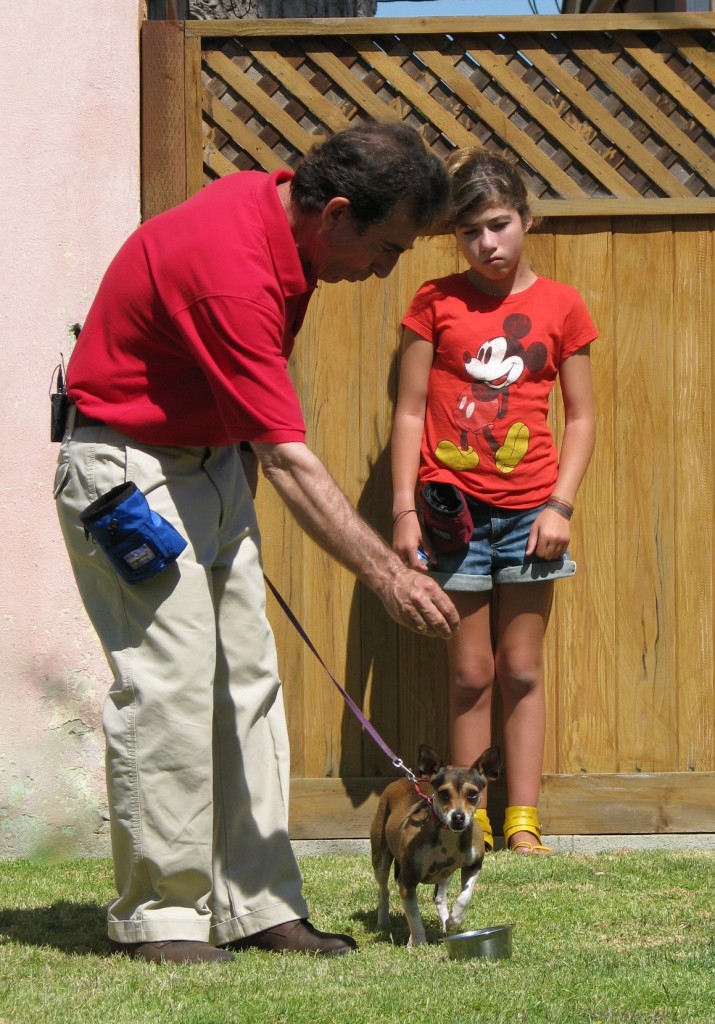 20 Days of school for your dog and 4 private lessons with you: During school your dog will have lessons during the day with our trainers at our training facility. If your dog is social it also has the chance to have playtime with other dogs and always gets to go out for its bathroom needs. We teach the basic obedience and manners lessons all dogs should have. Your dog will learn to walk properly on the leash and to wait before going out doors and into the street. We teach "sit", "down", "wait", "place" "come", how to greet people, and we also work towards all of this around some distractions too. Your dog will have better manners, know how to listen to you for commands, and you will be able to communicate with your dog.
We do weekly lessons with you to give you weekly feedback and show you where your dog is in its training program. We will practice with you so your dog minds at home and so that the training transfers seamlessly. In addition we work with you and your family to fine tune in-home issues that may arise during the program. This will make sure you stay on track during the whole training program.
Dog Day School Beyond Basic Training

20 Days of school for your dog and 5 private lessons with you:This is a special training program designed for dogs that need more than basic obedience. Obedience is included as a part of training because it is an integral part of the foundation, but this program is more extensive and will help to change the way your dog behaves and how you behave with your dog. We address behavioral problems like: leash reactivity, aggression to dogs and/or humans, separation anxiety, fear, excessive barking, adult house breaking, severe destructive behavior and more.
This program is a combination of lessons and training in and out of school and includes:
Initial consultation at the start of training: During the consultation you will meet with a trainer and review your dog's history and issues. You will be given some homework to start laying a foundation at home so that when your dog begins Day School he is ready to learn. The goal is to open your dog's mind so that we can start to change behavior and get your dog on the "Earn a Gold Star" program. Click here to read more about laying a foundation and learn to earn.
20 Days of school for your dog, school days are M-F: During school your dog will have lessons during the day with our trainers at our training facility. Training includes basic obedience much like the Day School program and in addition to that we work with your dog in scenarios best suited to assist your dog with its specific behavioral problems.
4 private lessons  (1 per week): All included lessons are scheduled at school during normal business hours. We start all Beyond Basic programs with a consultation, then there is one lesson each week during training.  These lessons are to give you weekly feedback and show you where your dog is in its training program. We will give you some lessons to practice at home and continue to fine tune problems that may arise during the program. If it is necessary, or you prefer it, lessons can be done in your home for an additional fee. Please understand that like humans, dogs learn at their own pace. Occasionally we see dogs that require a little more time than others.