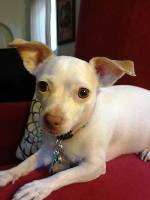 I had a nice review posted on Yelp the other day. It is a really great success story of one client's efforts to give her dog a new life, persistence and even of the benefits of a positively based training program. I can't really imagine what it would have been like for Elle if she had been in a training program where they tried to punish her with "tsssst", "no" or even worse use a correction collar every time she went off on her environment.
M called us about training and between finances and the thought of whether there really was any hope for her dog Elle, decided to take our group Life Skills Manners Class. This is a class you can join any week so that people can start right away. The curriculum is designed that each week starts with a sort of welcome to class intro exercise designed to just get your dog having a nice time playing with you.
There is a lot going on in each class, and students are all at different stages each week. I told M that it would be a way for Elle to start, but I didn't really know how it would go. The first week she was nervous and reactive.
She barked and charged at anything that moved so couldn't be anywhere near the other dogs, so she started class outside the main room and actually finished the first week isolated in one of our nap rooms with one of the training assistants. We tried to use a gentle leader to calm her and couldn't even get it on her, so we did our best to fit her with an Easy Walk harness.
The second week M came early and we resized her harness.  It was outing day, so we all trained near the street and on the sidewalk.  There was nowhere Elle could get away from the dogs and she didn't want any food or treats.  M used peanut butter with some degree of success.  All I could do was offer her words of encouragement not to give up and that I really hoped she would pick up some pointers in class that she could use at home to practice in an area where the dog was a little more comfortable.
Over the course of the class we introduce different scenarios like household with guests and workmen, confidence building with obstacles, a trip in the car or an emergency at the vet.  Then we teach solutions for how to handle them and how to accustom the dog to each.  As the class goes on the exercises are repeated and we expect the dog to improve.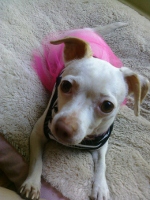 The third week we started to have a real breakthrough.  I kept saying I didn't care if the dog learned any lessons, just keep trying to have a bit (any bit) of fun in the environment and with the owner.  We had been able to get her in the main classroom only behind a blind so she couldn't see the other dogs.  Using really high value treats, Elle began to play the "find it" game, where we threw treats on the ground in front of her and she ran to grab them.  All of a sudden she was able to be enjoying the presence of other dogs.  I was thrilled to see her play even if it took all of M's effort tossing a tiny tiny treat literally every 1-2 seconds.
We always had to bring her in specially and find a place for her where she was off in some corner away from all the other students and their dogs. The fourth week all of my hopes and dreams were met.  I was off on a side talking of one of the students.  M was about the 5th to arrive that day.  Much to my amazement she walked through the middle of class through all the other dogs found a seat and began practicing with her dog.  She was in full sight of other dogs. I think it was "Cafe Day" where we pretend we are on the boardwalk in front of crowds, cafe tables and other dogs.  The rest is history, and I am so proud of M and Elle for the effort and progress in our training program.
Here is what M has to say about her experience with us:
I've been hesitant to right a review for I Said Sit because I didn't know how to do them justice. I adopted a dog with a lot of issues. I spoke with Jonathan for quite a while on the phone and we decided to sign Elle up for the Life Skills and Manners class. I really appreciated Jonathan taking the time to discuss Elle and what class may be best beforehand. This was a good sign and everything after followed accordingly.

Elle has issues with dogs bigger than her, men, and she had started to bite when she was riled up among other things, so I knew it was important to train her but I was also worried we would get kicked out of class for disrupting the other dogs. I found out this doesn't happen.  The first class was rough but the class was small and there were several assistants there to help the trainer and they are all amazing. I felt like I was not in it alone which makes all the difference. I must say that although the classes are small, the space is large and perfect for training.

I recently finished 6 classes and Elle went from barking and shaking through the whole first class where she wouldn't take a single treat, to where she is focusing on me and the skills she and I have been learning. The growth has been phenomenal. We learned so much that I honestly can't believe it. The change in Elle is amazing. I realize our journey has just begun so Elle and I do want to continue on with more I Said Sit classes. This is a great school.