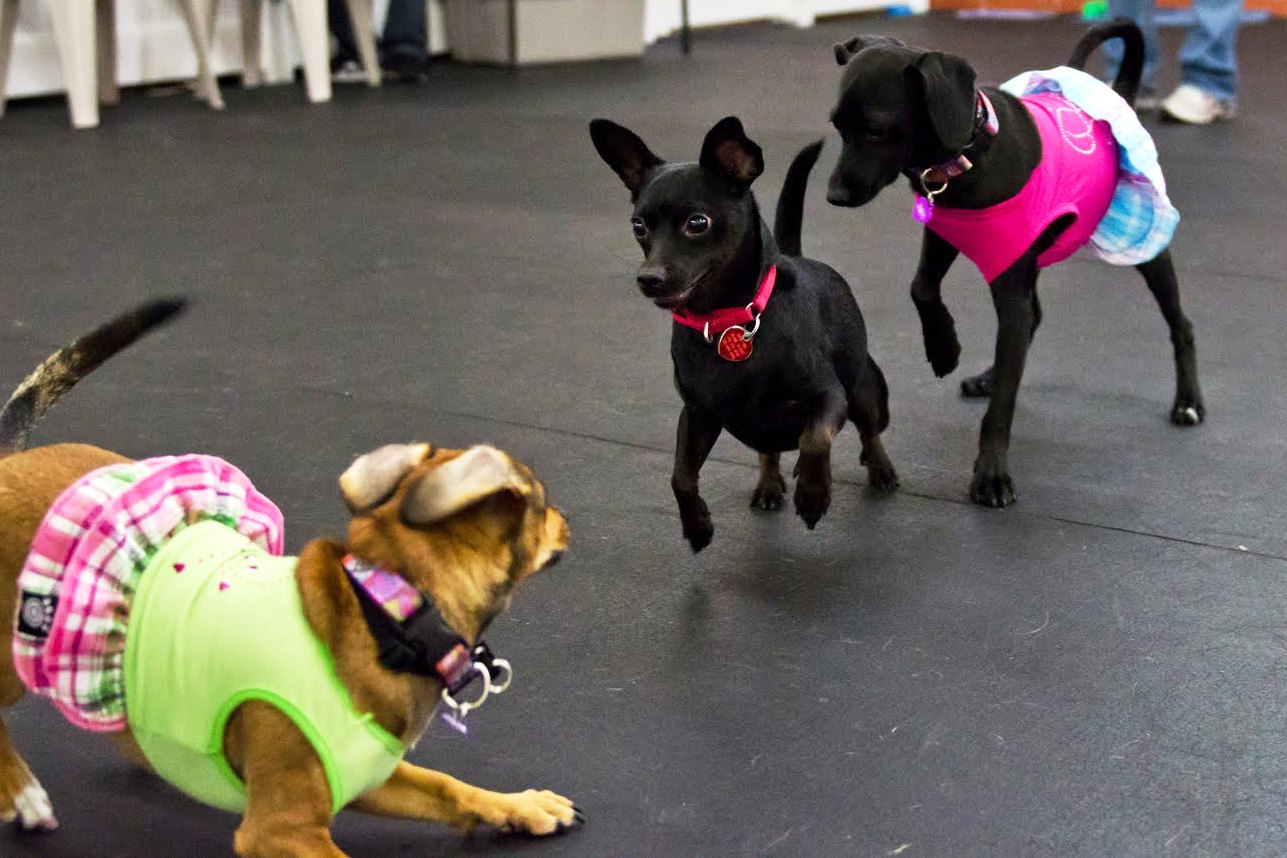 "I Said Sit!" School for Dogs does things differently from "cage free" boarding facilities. For over 20 years, dogs in our care have gone home calm, relaxed and with adequate exercise and mental stimulation. This is because we give the dogs more personal attention and a structured environment.
Dogs boarding at many cage free facilities are really over stimulated because they rarely get much quiet time. All day and often all night they get to practice things like jumping on the staff, barking, rough play, greeting every dog they see and using the bathroom anywhere without learning to hold at all. They can become experts at these behaviors. It is not uncommon for these dogs to start to practice these behaviors at unwanted times, like when you bring them home or try to enjoy a leisurely walk with your dog on a Saturday afternoon.
In cage free boarding it is difficult to monitor the dogs individually. We feel that it's very important to know if the dogs relieved themselves or if they or any other dog might have had nausea or loose stool. We have a high staff to dog ratio so its easier to watch each dog's health and behavior and report changes to the owners in a timely fashion. The play and nap areas are regularly cleaned and disinfected. Our students go home clean because they have designated potty areas. Three of our play areas have raised drained turf so that the dogs aren't soiling where they play.
We only offer boarding to dogs currently in training and to dogs that have completed one of our training programs. This is to ensure that all of our students staying in the nap rooms and in the dormitory will be on their best behavior. All of our students get their own "safe place" with bedding and toys. This is where they are fed and able to rest between activities, lessons and playtime.
Since the dogs are already comfortable here from their training and previous day care visits, the transition is seamless. Boarding students get taken on walks and are given play time throughout the day. You may bring bedding and toys from home so your dog feels comfortable or you can purchase something from our retail area. Dogs from the same family can be housed together at your request.
Our boarding programs are day care with an overnight stay. All dogs in boarding also are included in our daily Activity Day Care. Your dog gets an activity every day as well as play sessions in small groups and we do have nap and quiet time. It is our feeling that a normal healthy routine for a dog includes adequate mental stimulation, exercise and rest.
Holiday Boarding
Reservations for boarding over holidays require a reservation and a deposit to hold your spot. Please note that we only accept dogs into boarding care if they have completed a training program with us or are currently enrolled on a training program. Please download these forms to complete a holiday reservation, Holiday Boarding Agreement and Credit Card Authorization.