If you just rescued a dog, it's better to change its name to give it a really new beginning.
Here's Stormy, or at least that is what his name was when he came to us. He was pretty rambunctious, and he actually has a bite history. We have the privilege of training him for the Golden Retriever Club of Greater Los Angeles Rescue.
As you can see, Stormy is a pretty wild dog. That is probably why he got that name in the first place, but we intend to change all that. Sometimes it's really better to just go back to the beginning and start over. When you start training we really suggest you start over with everything. Give the dog a new leash, a new collar and especially a new name.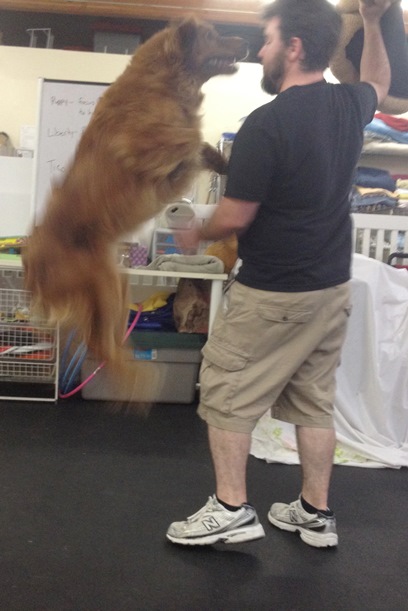 A fresh start really expands the ability to make new positive associations, because the old bad ones are classically conditioned. To give you a comparison, a lot of parents use their child's full name only when they are bad. If you heard that "you're in trouble now" name from across the house, you automatically came reluctantly because you associated it with something unpleasant.
You can easily imagine, after being jumped on, dragged down the street or being bitten, that people say: "No Stormy", "Stormy stop it", "BAD Stormy" and so on. Unfortunately Stormy had never learned to behave well, so he had lots of opportunities to hear how bad he was. We want the dog to think 'oh yes, I'm being called' and have a really good association with hearing its name. That is the whole point of the new name.
Stormy would bite was because he was quick to defend or protect himself from perceived harm and had zero impulse control. He used to go from zero to crazy in nothing flat and at that moment he was so in the red zone that nothing really worked to calm him down. When you tried to stop him he turned to attack the first thing he saw. If you were holding the leash or trying to touch him, especially near his rear, he exploded and that's when the bite happened. In dog training terms, he redirected on whatever impeded his path.
A couple weeks into training, Stormy is a different dog. He is calmer and relaxed, and knows how to greet people politely now. Most of all, when you touch his rear he doesn't growl and turn to bite like he used to. He is actually not a bad dog; he is just an "over-the-top" dog. Now that he's doing better we would like help to give him a new name as we give him a new attitude with training. Click here to go to our Facebook page and offer your suggestion for a new name.
We met the staff of Golden Retriever Rescue at our "Class for Hope: Positive Training for Adoptable Dogs", a series designed to teach the rescue volunteers to better show the dogs at adoption.  We are always happy when we can make any dog more adoptable. We had so much success with the class, that we have made it a regular part of our curriculum. Click here for the schedule for the next class.
If you want to give Stormy a home, or adopt another fabulous Golden Retriever, click here to go to the rescue site.
We've run across some other names that were the setup for a future of questionable behavior. Although they are really cute, if you are having problems with your dog and are starting over with training, think about making some other changes to give your dog a fresh start too, including a new name.