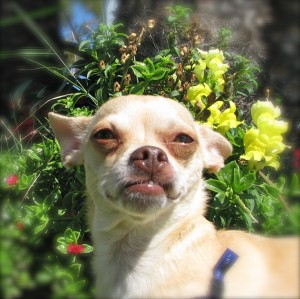 I rescued Zoie, an 8 lb fawn, female chihuahua, at 7 months from a "home breeder."  I was told Zoie was very shy; the owner never trained her to walk down the steps in her house, so she spent 7 months in an upstairs bedroom, getting fed and potty trained on paper in the bathroom. I took her home, and the next day, I left her alone, with her blanket, which the owner had given to me. When I got back 2 hours later, my neighbor told me Zoie was whining and howling the whole time I was gone. That was the beginning… The first trainer I consulted said I should give Zoie massages, and not work on commands. The second trainer was very traditional, and taught her "come" "stay", "sit", and "down" and put her on an antidepressant for anxiety.  He told me I had to be strict and rigid, and said "Sit means sit. Yank her leash and yell 'no' if she doesn't listen."  I did this, and watched my poor dog shake in fear.  The third trainer put Zoie in the bathroom and closed the door.  If Zoie whined, the trainer would bang on the door and yell at her.
I was desperate.  I was watching my cute little dog being terrorized — at least I thought it was terror — maybe for me.  I need to add that for me, the relationship between dog and owner feed off each other.  I wanted to protect her and love her, because she is so loving, with a sweet temperament, but I overprotected her.  I took Zoie everywhere with me and gave up on trainers.
Then, serendipitously, I met Jonathan, the owner of "I Said Sit", while I was on the street with Zoie.  I described the training methods I had learned, whereupon Jonathan immediately identified numerous ways to make Zoie's training more effective.  The following Monday, Zoie started the "I Said Sit!" one month boarding school course.  The separation was traumatic for me, and I thought for Zoie, as well.  However, I found out she was not as traumatized as I thought; she needed structure, boundaries, and discipline, taught in a fun way that she could enjoy, and be positively reinforced. I met with Jonathan and some of the staff each week for a lesson.  I learned from Jonathan that Zoie needed me to be the leader, but I could make her training fun, not punitive. Within a couple of weeks, she was in a crate (which I originally fought).  She stopped whining when I left the room, and she loved going out daily for "learning and socialization."  I loved getting my weekly lessons, because it put me in touch with my feelings, and how I needed to change my behavior to really help her.
The entire "I Said Sit!" staff is professional,  kind, and loving, to both me and their doggie clients.  Zoie is much calmer, she loves our outings, and is able to tolerate being alone.  The "fun and positive reinforcement" model that Jonathan utilizes, and the patience he and his staff have for doggie owners made this experience the best investment I have ever made in Zoie.  Needless to stay, she is still somewhat anxious, and so am I, but training takes time and consistency.  Overall, she is a different dog — a happy, more confident dog, who loves her accomplishments, and does not fear the process of achieving them.  This is all because of "I Said Sit!"  I couldn't be more grateful.
Amy and Zoie… ruff, ruff….