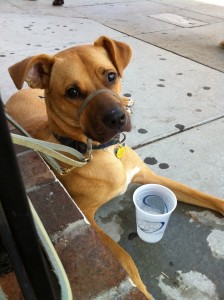 Heather brought Berkeley to "I Said Sit!" for our 4 week daycare training package. "Berk" was full of energy, and while he knew some of the basics, he couldn't control himself when he was out and about because he is such a high energy, happy-go-lucky dog.
One of Heather's goals in training was to be able to take Berk out in public without worrying about him getting out of control.  In particular, Heather wanted to take Berk to an outdoor café.
After their most recent outing, Heather is happy to report that Berk is now very well behaved while out on the town with her. As you can see in the picture, Berk laid down and relaxed on his recent stop at a busy outdoor café in Santa Monica.  He didn't mind all the people passing by, and was happy to lay at Heather's feet and get a few treats for being such a good boy.
Congrats to Heather and Berk for all of your hard work and your devotion to training!