In this day and age our pets are an extension of our family. They are often included in our lives as much as our children and our relatives. We set up special places for them in our homes and in our hearts. Since they are so integral to our lives, we often have photos taken or even their portraits painted. It is really a special memory to have a painting created just for you. That's exactly what Dana Torrey does. He is an artist whose work has ranged from fine art to sculpture. But what interests us the most are Dana's custom commissioned and designed pet portraits. He will meet with you and your pet to develop and execute a painting reflecting your pet's personality and location of your choice.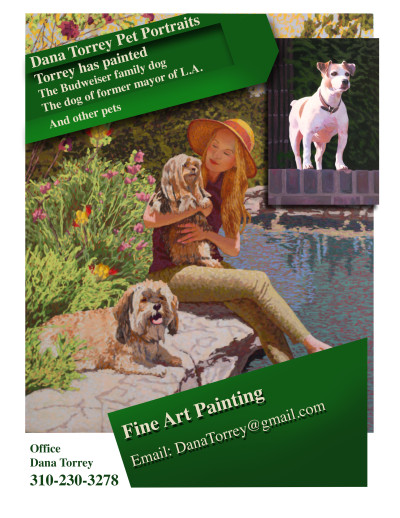 His work has had him in hospitals drawing as a medical illustrator and in the film business as a backdrop painter. He enjoys his own work as a fine artist painting people, landscapes and animals. Dana has painted the beloved dog for the Budweiser brewing company family, has a painting hanging in the Getty House owned by the city Los Angeles and has had a three dimensional figurative sculpture with a backdrop of Los Angeles in the international terminal of the Los Angeles airport. He has even painted a portrait of the former L.A. mayor's dog.
What Dana will do is meet with you and your dog at your home or another location that is significant to you. He will find out from you how your pet fits into your life and then work out how to turn that into a visual representation of your pet with you or just by itself. Often these portraits are designed for one special location in your home. Here is a link to a video of Dana's process from start to finish.
If you want more information feel free to reach Dana directly at his studio or via his website.
Dana Torrey Pet Portraits
Contact: Dana Torrey
Tel: (310) 230-3278 Studio
DanaTorrey@Gmail.com
www.DanaTorrey.com