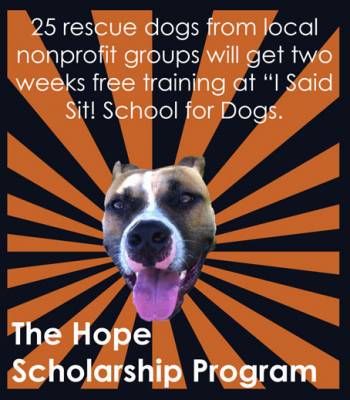 The Hope Scholarship Program was established in honor of "I Said Sit!" School for Dogs 25th Anniversary as a way for us to give back to the community. In the inaugural year we plan to train 25 dogs in need of basic manners in order to help them get placed in a forever home. Each dog will receive two weeks of free boarding training at "I Said Sit!" School for Dogs and we are also offering two training lessons with a volunteer from the rescue organization or the foster parent to take with the dog also. This two week program is designed for dogs that need to learn some manners and obedience.*
Looking for a trained dog to adopt? We hope you will consider adopting one of the graduates. Click here to see dogs who have participated in this program.
At this time the program is only open to dogs in the care of a registered 501(c)(3) nonprofit group and dogs must pass an assessment test by an "I Said Sit!" trainer. If you have a dog you would like us to consider, click here to email us.
Other requirements:
Fully vaccinated
At least one week out of shelter
Clean fecal exam
*No dogs with aggression, fear, or other behavioral concerns will be accepted. We do offer programs at a reduced rate for registered 501(c)(3) nonprofit groups. Contact us if you would like to discuss training options that are better suited to address dogs in need of behavior modification.