Jacque and Josh are working hard to help people and pets in need.  Can you help these two great kids support a great cause? Here is their story:
---
"I Said Sit!" has been a big part of our family.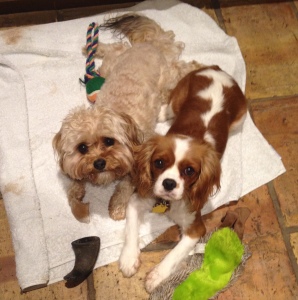 They have helped train our two dogs. Dash (aka Mad Dash) and his mommy, Libby go to school for dog training during the day.  We love our dogs so much, that for our Mitzvah project, we decided to do something to help people and their dogs. PAWS/LA (PETS ARE WONDERFUL SUPPORT/ LOS ANGELES) is a nonprofit organization which helps keep a strong bond between the elderly or people with life-threatening illness and their cats/dogs. To help elderly or sick people take care of their pets they provide services which include: delivery of a monthly supply of food, fostering, vet care, dog-walking, vaccinations and more.
PAWS/LA needs CANNED DOG FOOD. We have coordinated with the owners of "I Said Sit!" to help collect the canned dog food needed. For two weeks (May 11-26, 2015), there will be a box in the lobby of "I Said Sit!".  We would be very thankful if you  bring donations of CANNED DOG FOOD. We appreciate your support of our Mitzvah project and PAWS/LA.
For more information about PAWS/LA, go to www.pawsla.org
– Jacque and Josh F.