Why did I get into this business? Easy: I love helping people and helping their dogs!
I have trained dogs as a hobby since we got our first dog in 1968 and professionally since 1988 when Henry entered my life. Henry was my fourth dog. At less than 4 months old his former owners had left him at the pound, deemed untrainable and a little terror. I soon learned they were nearly right. He was a little terror. But as I have also learned and taught thousands of my clients — nearly all dogs are trainable. Henry went on to earn obedience titles, do demonstrations in my classes and compete in dog sports, as well as doing commercials, movies and therapy work.
When I was having trouble training Henry, I sought the help of my local training club. One trainer told me to jerk him really hard then praise him more to overcome the response to the hard jerk. Another trainer told me with Rusty my second and very fearful dog "better she be more afraid of disobeying you than afraid of whatever else scared her". Those were both respected trainers teaching local classes in my area. Since neither of those suggestions made sense to me, I had the good sense not to follow them. I became hooked on training and I have made a life long career out of developing non-confrontational training methods and methods that didn't themselves create new problems.
I went on to focus my attention on helping pet owners refine the training of their already good dogs and deal with the behavioral problems of the so-called "bad dogs". I boarded and trained dogs in my home and ultimately opened a boarding and training kennel that I operated from 1991 to 2003. In 2003 I moved into a 3500 square foot indoor training space. In 2010, I teamed up with my business partner and General Manager, Elisha Stynchula to open a new 5000 foot training center, kennel and day care on 3368 S.Robertson just north of Venice in WLA.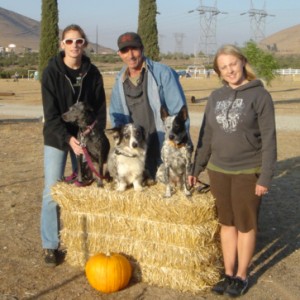 I also try to stay in close contact with my peers. I am an active member of several trainers groups, including Truly Dog Friendly and the Southern California Dog Trainers Forum, which puts me in close contact with the local community of vets and trainers. I'm a regular contributor to publications including Pet Press and Training Tales, as well as a "go to" dog expert for media outlets including the Associated Press and USA Today.
I constantly revise my own methods, combining my studies at the Balu Academy with my experience working with over 5000 clients and more than 7500 dogs in the past 20 years. Dog behavior and effective teaching methods require ongoing study. I regularly attend seminars and courses on different aspects of teaching, training methods and behavior problem solutions.
In 2012 I took the test for Certified Professional Dog Trainer and received my CPDT-KA from the Certification Council for Professional Dog Trainers. I also did a lengthy examination and peer review process through the International Association of Animal Behaviorists. I was honored to be one of a test group for their new scoring process and received my CDBC certification as a behaviorist. At this time there are only 3 others that I know in the LA area and two of them are veterinarians.
For Jonathan's resume, please click here to go to TheDogBehaviorExpert.com