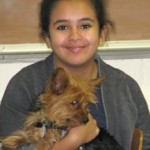 Veterinarians, stores, groomers and my clients throughout Los Angeles have recommended me. You can read some of their comments below. I have worked with many rescue organizations, including:
›

Friends of Animals

›

Pet Adoption Fund

›

Pet Orphans

›

Boxer Rescue
I have also acted as a training consultant for a number of organizations, including:
›

The Doris Day Foundation

›

Much Love Animal Rescue

›

Great Pyrenees Rescue

›

Adopt-A-Chow
In addition, I have given expert testimony in Los Angeles Department of Animal Regulation hearings and in Municipal and Superior Court in Los Angeles and Ventura Counties.
Here is what some people have to say about working with Jonathan Klein & "I Said Sit!":
I have exclusively referred my office's dog training to Jonathan Klein for over 20 years. He provides a wonderful balance of basic and advanced training services as well as assistance with behavioral challenges. Jonathan has an uncanny ability with dogs and is totally dedicated to making each dog he trains successful. I also like that he uses proven techniques and has never falsely labeled any of our patients as having some "brain chemistry" problem needing psychiatric drugs. Instead of labels, he finds effective approaches and helps dogs better socialize in their surroundings.
Richard Palmquist DVM, Chief of Integrative Health Services Centinela Animal Hospital, Inc Inglewood, CA
---
Jonathan Klein has been great to work with. He treats every dog like his own, every owner like a family member and he is really good with the pets. They, we and I all adore him. He has trained our dogs and those of patients and friends of ours – "I Said Sit!" really works.
Steve Ettinger, DVM California Animal Hospital West Los Angeles
---
I've known Jonathan for many years, and have always felt very comfortable referring my clients to him. I often recommend a few trainers and let my clients make the final selection, and I must say that everyone who has used Jonathan has been very pleased. They seem to appreciate his technique, caring, and follow up. Jonathan isn't pleased unless his clients are pleased. I have no hesitation recommending his services to any of my clients—I know they and their dogs will be in great hands!
Jeff Werber, DVM Century Veterinary Group Los Angeles
---
I really enjoyed the "Manners" class. On my application, I stated I wanted Hal and I to enjoy each other more. I believe we do and I look forward to continued progress and fun.
Fred. J. Grossblatt Santa Monica
---
Jonathan Klein truly loves dogs and has helped many people enjoy their dogs more while always appearing to enjoy the experience himself. He is most patient and kind. Jonathan has much to give and does so effectively and generously! He is a very effective teacher. I have and will continue to recommend Jonathan to other dog owners most enthusiastically.
Christine Wagner West Los Angeles
---
I've just spoken with Judy and she told me about the terrific job you did with Murphy. I was delighted to hear that he has a home, thanks to you. You were very kind to board and train him, and give us a discount as well.
Doris Day Carmel
---
I highly recommend your organization for behavior training, boarding, and all the other services that you offer. I am a dog and cat lover and can guarantee you that the first stop I make when I get another dog will be "I Said Sit!". I will not bring another dog to my home until you have spent 30 days with the animal working your magic.
Thank you for saving my dog and my sanity.
Clay Turner Westchester
---
Just wanted to thank you again for all your kind assistance. If you haven't heard this enough – let me say it again… You are very much appreciated and a wonderful human being. PS: your staff is super too!!
Sylvia Ryan (Bean's mom) Los Angeles
---
Our bulldog Lucy had over a dozen lessons with other trainers but it wasn't until you that she started to make significant improvement. Of course she's a bulldog and if you know those beasts you know that any improvement is significant. But the real benefit of Jonathan's program is that he gives you the tools to continue the training well after the lessons have ended. He's not just training your dog, he's training you to train your dog. I highly recommend Jonathan to anyone looking to instill some manners in their four-legged family members.
Matt Peterman Los Angeles
---
As an Animal Lawyer I have worked with Jonathan Klein on numerous occasions. He is a highly qualified, competent, and knowledgeable trainer of dogs and knows how to correct inappropriate behavior. When working on problem cases with me, Jonathan has always been successful at diagnosing and correcting canine behavior and teaching the people who live with those dogs how to be more responsible at it.
Michael Rotsten, Esq. Encino, CA